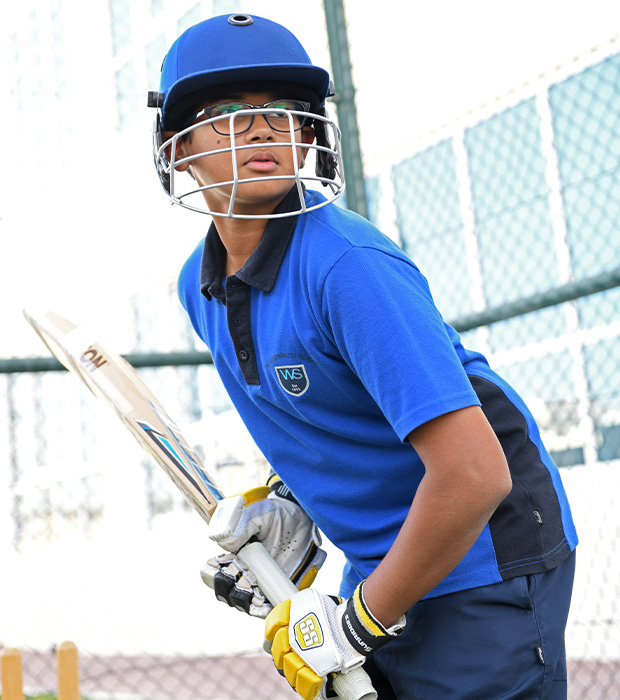 Student Life
Extra-Curricular / Activities
We offer our students a wide variety of co-curricular and extra-curricular programmes designed to ensure opportunities for all to participate. The co-curricular activities include field trips; cultural events; environmental and social service projects and campaigns.
Optional extra-curricular activities are available after regular school hours and are organised in the following strands:
Sports
Arts
Music
Languages
Maths and Science Club
Physical Education
The WSS PE Programme
The WSS Physical education programme is based on the principle that every child needs the opportunity to be physically, psychologically, mentally and socially active. Students thrive on focusing their energy, motivation and strength in a positive, structured way, through access to a range of school, extra-curricular and inter-school activities. Out school trophy cabinet is full of medals and cups, but more importantly, we know that regular physical activity helps children to improve their overall health, cardio-respiratory fitness, motor skills, body coordination and the enhancement of reflexes. Our programme is designed to meet these health needs, to improve strength in bones, joints and muscles, develop endurance and hand-eye coordination. And what is more, it is designed to be fun!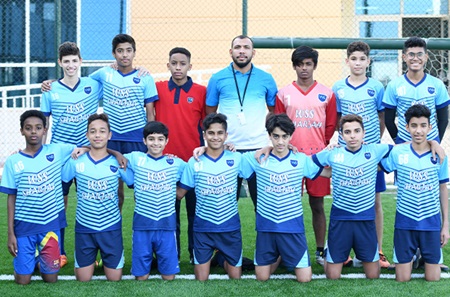 Regular PE lessons focus on general motor skills development. A range of skills are promoted, including agility, flexibility, balance, coordination, power and speed. The result is enhanced performance. Fun and enjoyable activities are used to improve physical fitness, such as the loco motor skills of running, jumping, hopping, galloping, rolling, leaping, dodging, horizontal jumping and sliding. Next we explore the manipulative skills of throwing, catching, kicking, striking, and trapping, dribbling, overhead throwing, and underhand rolling. Last, but not least we work on stability skills such as balancing, twisting, turning, and bending forward and backward.
Understanding the importance of teamwork is a life skill applicable in most social situations. Being a good leader or team player allows children to experience healthy social interactions, and teaches cooperation through group sports activities. Encouraging teamwork through individual identification as one part of a larger team develops sportsmanship, leadership, social skills and confidence.
Building good character is key to lifelong success. Being a good team player and fellow student means more than just following the rules. By encouraging students to work on building positive character traits, a physical education educator can play a crucial role in helping students grow into cooperative team players. Character building is a large part of helping students to maintain their social, emotional, and mental well-being. Sportsmanship promotes respect, responsibility, caring and honesty. Self-discipline and commitment flourish in the sporting context. When it comes to young athletes, promoting integrity is at the forefront and reminds children that they should celebrate in a responsible and respectful manner. One of the most important aspects of sports is the development of teamwork.
Enhancing leadership qualities through providing multiple leadership opportunities is a central part of our character development programme. Successful teams have strong leaders and the importance of this role is evident in all categories of sports. Leadership maybe considered as a behavioral process that influences individuals and groups towards set goals. As such, a leader has the dual function of ensuring player satisfaction while steering the individual or group to success. Learning to delegate, inspire others, make decisions and communicate are all transferable skills required for future success. Emotional intelligence, empathy, humility and sharing a clear vision and purpose are also key components in our sporting programme and important to school-wide success.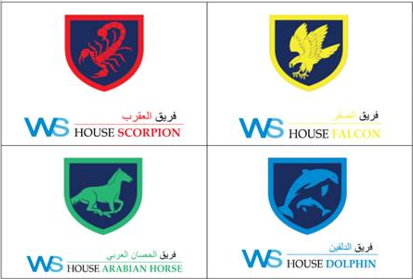 WSS inter-house sports & games provide the opportunity to explore kinesthetic talents in athletic events that are fun teamwork activities, in the context of healthy competition, team spirit & physical fitness. These would include talent hunt in various games, such as football, cricket, basketball, gymnastics & badminton etc. We identify talented students in different skill areas, then support and guide them through additional coaching sessions.
Student Leadership
At GEMS Westminster School - Sharjah, students are exposed to a variety of leadership opportunities that reflect the unique blend of interests within the community. We have 40% student leaders at GEMS Westminster School – Sharjah, ranging from innovation and well-being, to house and grade-level captains.
The responsibilities of these student leaders include: organizing activities that create community spirit, raising awareness, and supporting peers and families through creative action. The leadership roles link back to various phases of the core fields and encourage students to actively discover ways in which they can develop themselves and connect to other cultures, through service and actions.
Music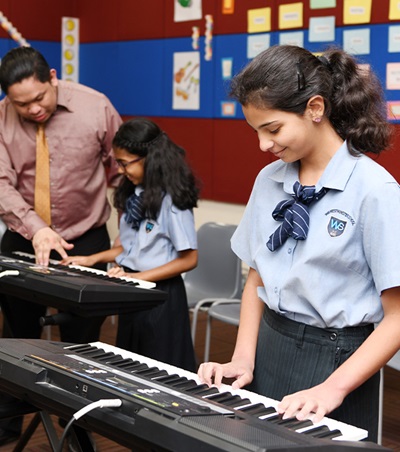 The WSS Music Programme
At GEMS Westminster School, Sharjah our students are able to nurture an appreciation, enjoyment and passion for the performing arts through performance and learning throughout their academic year, that will hopefully last a lifetime. School Assemblies, Talentastic talent show, concerts and other activities provide center stage and the perfect opportunity to develop their musical skills and self-confidence.
With piano and guitar lessons at WSS during our after-school programme (ASP), students are exposed to Western classical music – both theory and practical, and thereby providing additional opportunities to express themselves as budding musicians.
Music appreciation through instrumental learning develops the students' aesthetic understanding of music, thus laying a creative foundation that may continue throughout their lives.
Student Clubs
The WSS Club Programme
Think like a Proton and Be Positive
It is the nucleus of GEMS Westminster's' explorers, innovators and saviours of environment. We brainstorm burning issues of the day, evolve ideas and put it into action for the progress of mankind and safety of environment.
Our vision is to become educated students, professional scientists, and ethically, socially, and academically superior individuals. Above all, we want to prepare ourselves to have in influence in the affairs of our local community.
Fosters the science and the art of natural resource management to achieve sustainability. To promote and practice ethically recognizing the interdependence of people and the environment