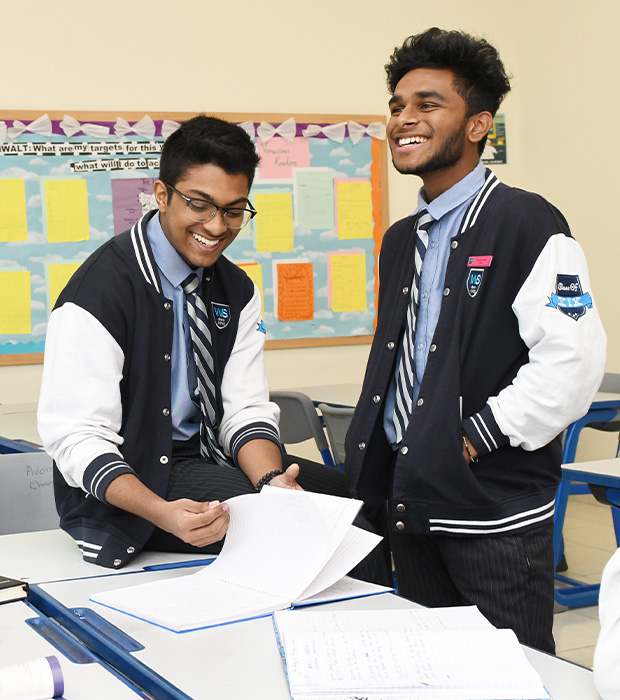 Admission Process
Screening / Assessment
The School may undertake screening and assessments to determine the right placement of an applicant. The screening and assessment of a student will be determined by the admission committee, and will be necessary to complete the registration process for the school. Once this step has been completed, a student may be offered a seat, placed on the waitlist, or denied.
Educators recognise that there is a wide range of behaviour and performance within any grade or year. The admission process includes academic and developmental assessments to identify those students most likely to benefit from our program. We understand that children have different learning needs & challenges, and our teachers are qualified to help each child succeed through differentiation of instruction and assessment and attention to the learning styles of students.
Admissions Process
Step 1
To begin the application process, please submit your enquiry through the GEMS Online Student Enquiry and Registration page.
Before accessing this site, you may wish to read the following guidelines providing simply instructions for completing the online application process.
Step 2
Once you have completed the online application, you will receive an Enquiry number. Please print a copy of this Receipt and keep it for your records. If you cannot print this page, please ensure that you write down the Enquiry Number for all future correspondence and queries. Without the Enquiry Number, we cannot verify your Enquiry submission. An acknowledgement email containing next steps will be sent to the email address your provided.
Step 3
Once the online registration is completed, WSS emails parent an invitation to visit/contact school for the admission assessment.
Step 4
Student passes admission assessment is offered a seat subject to availability. The seat booking fee 5% of annual tuition fees - must be paid within 24 hours to reserve the seat. Parent pays 5 % of annual tuition fees - non-refundable Seat Booking Fee to book the seat & at the same time must submit all required documents & EID.
Attestation Process
Inside UAE
Stamped by the School
Attested by the MOE of the child's previous school
Outside UAE
MOE of country of previous school
Ministry of Foreign Affairs of the country of the previous school
Consulate of country of previous school in UAE
Ministry of Foreign Affairs, in UAE
Required Documents
All the following documents must be submitted before any child is assigned a class to be admitted into school. Children will not be admitted until all required documents are submitted. The following list is subject to MOE/SPEA change without notice. Any seat booking fee paid by parent is to reserve a seat until the deadline mentioned. It does not guarantee that WSS will hold the seat indefinitely. It does not guarantee admission if the parent fails to submit the required documents by the deadline given. Tuition fees are due once all documents have been submitted. Non-payment of Tuition fees by the given deadline will result in loss of seat.
Birth Certificate
Copy of the child's Birth Certificate (The Birth Certificate should be in English or Arabic. If in any other language, the document should be legally translated)
Passports
Copy of the child's passport with current UAE residence visa stamp
Copies of both parents' passports with current UAE residence visa stamp (Mother & Father)
2 recent passport sized photographs (Colour)
Report Cards
Final Original Attested Report Card from the child's previous school (For all children)
For Grade 10, 11 and 12, Previous 2 years attested Report Cards.
For Grade 10, 11 & 12 (Year 11, 12, 13) students:

Attested final report cards for previous 2 years

Attested Transfer Certificate

Attested IGCSE/GCSE examination certificates

(you may submit an attested true copy, if you do not want to attest the original certificates).

In case of change of curriculum, letter from parent with the reason for changing curriculum.

In case of change of curriculum, the Equivalency certificate;

students coming from different curriculum must apply for transfer

through the Ministry of Education website with the link given below and certificate of transferring curriculum issued by Ministry of Education.
https://www.moe.gov.ae/Ar/EServices/ServiceCard/pages/CertEquivalentMove.aspx
Grade 11 (Year 12) admission: Students coming from British curriculum but without IGCSE exam certificates from Grade 10 (Year 11) will need a letter explaining non-performance of IGCSE exams issued by the Previous School.
Transfer Certificates
Original attested Transfer Certificate (TC) from child's previous school (TC required if the child is transferring from a school within UAE & within same curriculum [English National Curriculum])
OR
Original attested School Leaving Certificate (SLC) (SLC required if the child is transferring from a school outside UAE or from a different curriculum)
Emirates ID
Child's original Emirates ID card (For scanning)
1 copy of child's Emirates ID card
Both Parent's Original Emirates ID
1 copy each of both parents' Emirates ID (Mother & Father)
Medical Records
Copy of the child's Immunization Record
Child's Medical File from last school if attended a school